TMS Bridgemaster® MKII Arc Spray System
Overview
The Bridgemaster® MKII is the newest addition to our Bridgemaster series and is packed full of new features and technology. This system, like its predecessor, is a heavy duty, lightweight, low energy, and high-deposition arc-spray metalizing system meant for running either 1/8" or 3/16" wires.
Ideal for shop or field corrosion control coatings, the Bridgemaster® MKII includes a new robust 6-wheel wire drive assembly, extreme duty gear box/drive motor, safety interlocks, and color coded meters. These new features add to the reliability of the system even in the harshest of conditions. All of these features further separate the Bridgemaster® MKII from its competition.
The lightweight portability of the total system, the low maintenance requirements, the ease of operation, plus the "no wire clipping" feature, all add up to increased production time for the metalizing applicator.
Improved production, efficiency, and safety - and the best part - all of this even comes with a reduced price!

The Bridgemaster® Series
The Bridgemaster® Series is a lineup of twin wire arc spray systems that are heavy duty, yet portable. These low energy, high deposition arc spray machines are primarily used in the corrosion control industry to apply metalized coatings. Modular by design, these systems are capable of easy adaptation to the needs of the customer.
The Bridgemaster Series can be configured for automated or handheld, shop or field, close coupled or stand alone, while dispensing wire from either drums or spools.
Features
(Click picture for larger image)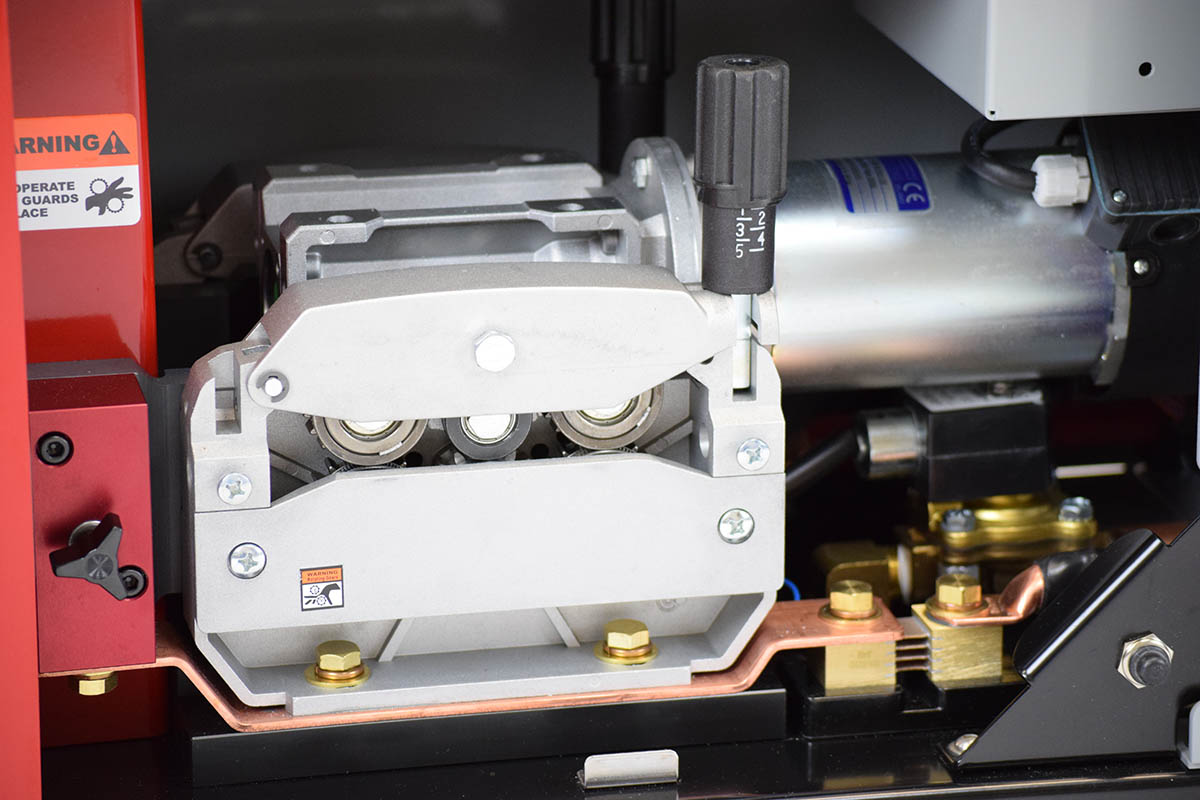 Wire Drives
Simple handle/knob tension assembly that allows for easy tension adjustments by the machine operator. Nothing hidden or complicated like other drives available on the market today.
The six wheel wire drive design includes four serrated "U" groove drive wheels, one large grooved guide wheel and one smooth following wheel. The serrated "U" groove drive wheels nearly double the wire gripping power of "V" groove drive wheels common in many systems.
Applications
Corrosion Control
Windmills / Wind Turbine Towers
Non-Slip Coatings
Off-Shore Oil and Gas
Bridges (Concrete and Steel)
Deck Coatings
Structural Steel Work
Manufacturing
Painting Facilities
Pipe Manufacturers
Machine Repair
Engineering Bond Coats
Boilers, Tanks, and Gas Cylinders
Marine
Shipbuilding
Architectural
Bearing and Seal Surfaces
Fences and Gates
Wear Coatings
Shop Applications
Field Applications
Accessories
Options and accessories can help the operator and increase productivity.
(Click picture for larger image)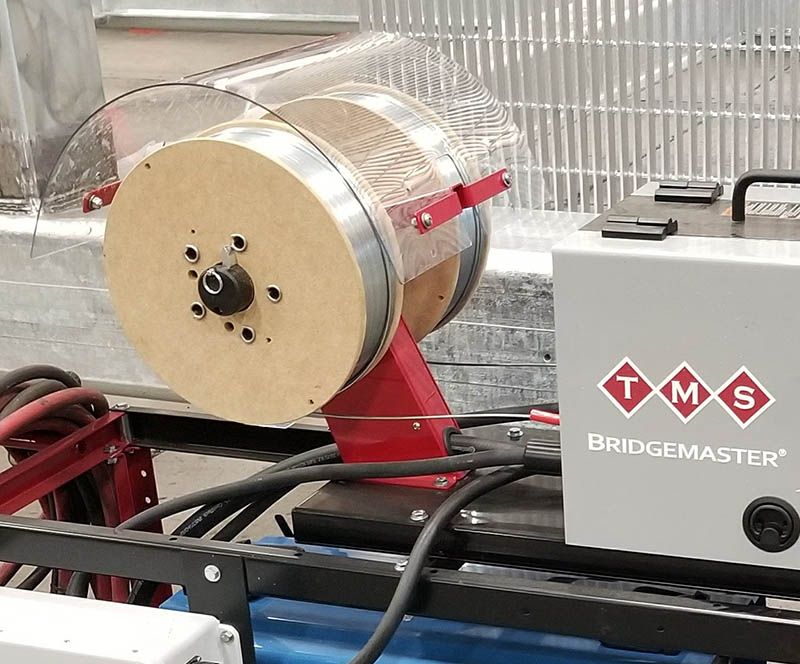 Wire Spool Shield
Our Wire Spool Shield protects the spools from contaminants and minimizes the accumulation of dust onto the metalizing wire. View More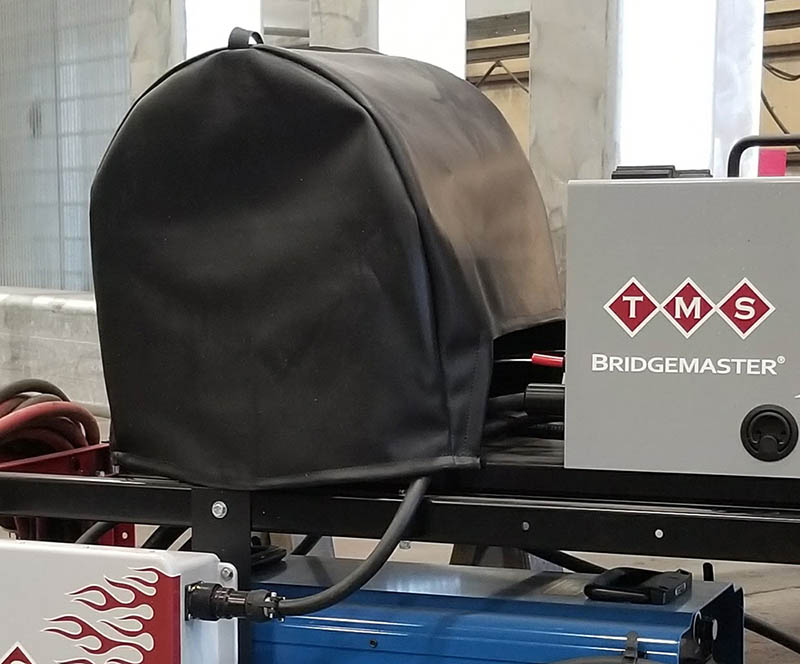 Wire Spool Shield Cover
The Wire Spool Shield Cover provides additional protection and helps keep the wire clean; prolonging trouble-free operation. View More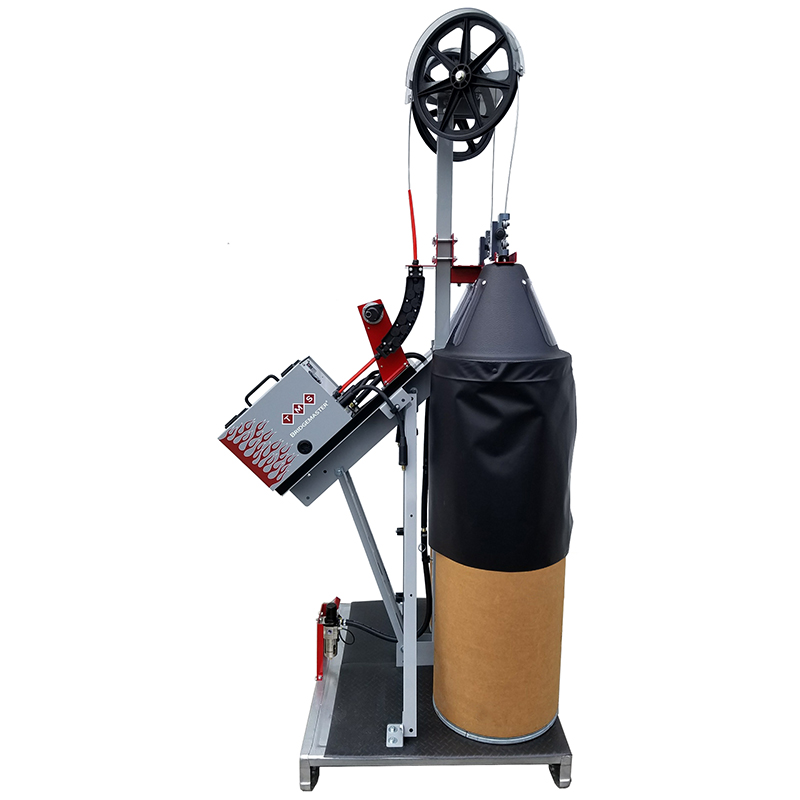 Drummed Wire Dispensing Unit
Payout Systems are an excellent option for high production applications where drummed wire can be utilized. (Zinc and Zinc/Aluminum wires up to 3/16" in diameter.) View More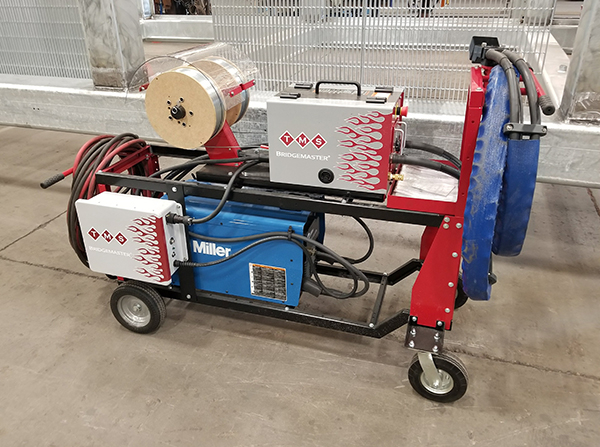 Equipment Carts
We have multiple cart configurations to fit the needs of your worksites and changing conditions. View More
Videos
Bridgemaster® MKII
Arc Spray Process
In the arc spray process, the raw material in the form of a pair of metallic wires, is melted by an electric arc. This molten material is atomised by a cone of compressed air and propelled towards the workpiece.
The molten spray solidifies on the component surface to form a dense, strongly adherent coating.
Arc Sprayed Coating Benefits
Corrosion Protection
Component Reclamation
Wear Resistance
Electrical & Thermal Conductivity
Free Standing Shapes
Major Advantages
The coatings are available for almost instant use with no drying or curing times.
The deposits generally possess a higher degree of bond strength than flame sprayed deposits.
It is more economic to operate than flame spray. No fuel is required; just compressed air and electricity.